A recent survey finds it more beneficial than web analytics or social media marketing tools
eMarketer --
When it comes to marketing technology tools, business-to-business (B2B) marketers have a host to choose from. According to a March 2017 survey of US B2B senior marketers from Software as a Service (SaaS) lead generation company
Leadspace
, the tools they find most valuable are customer relationship management (CRM) and marketing automation.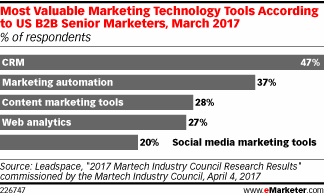 In fact, more respondents described these tools as valuable than other options, such as web analytics (27%) or social media marketing tools (20%).
But that's not really surprising given the popularity of CRM and marketing automation tools, and how closely they are tied to B2B marketers' goals of driving growth and leads.
By and large, marketers are continuing to lean on automation technology to drive leads.
Separate data from email marketing and automation firm are helping businesses with sales tasks like creating repeat buyers, onboarding new customers and, perhaps most importantly, generating new leads.